Internet Watch Foundation
Interactive Annual Report 2016
---
Challenge
Building from the success of IWF's interactive timeline, we were tasked with creating a digital first interactive annual report. This needed to contain all of the key components of previous annual reports to help inform, educate and encourage action whilst allowing users the access to download, share and interact with the report where, when and how comfortably through any device or browser. The report needed to communicate the human element behind the data, bringing the reality of this serious topic to the forefront. Another challenge was finding a solution to the costly and timely process of delivering physical printed reports. With the large amount of content available, it was important to make the report easy-to-navigate, highlighting key facts and digestible information.
Solution
We decided to build an interactive report microsite — a first ever for IWF presenting key insights in an engaging and interactive visual format. Striking a balance between insights and high impact imagery, we wanted to lead with the facts whilst presenting the human elements of IWF's work.
We built a responsive site that would offer the flexibility and modularity for users to access and interact with the site across multiple devices and browsers. The user experience has been responsively considered and key insights developed in a modular format to aid comprehension and support sharing key messages across socials.
Engaging features were developed to build a sense of involvement and add a level of hierarchy to IWF's key messaging. This came in the form of Interactive questions testing the user to visually fill in blocks to see their prediction against reality. Notification timers were incorporated at the top of the report to highlight the average time it takes IWF analysts to find a webpage that contains explicit content and remove it. These welcomed features have helped create a well rounded, more immersive solution that previous printed annual report booklets lacked.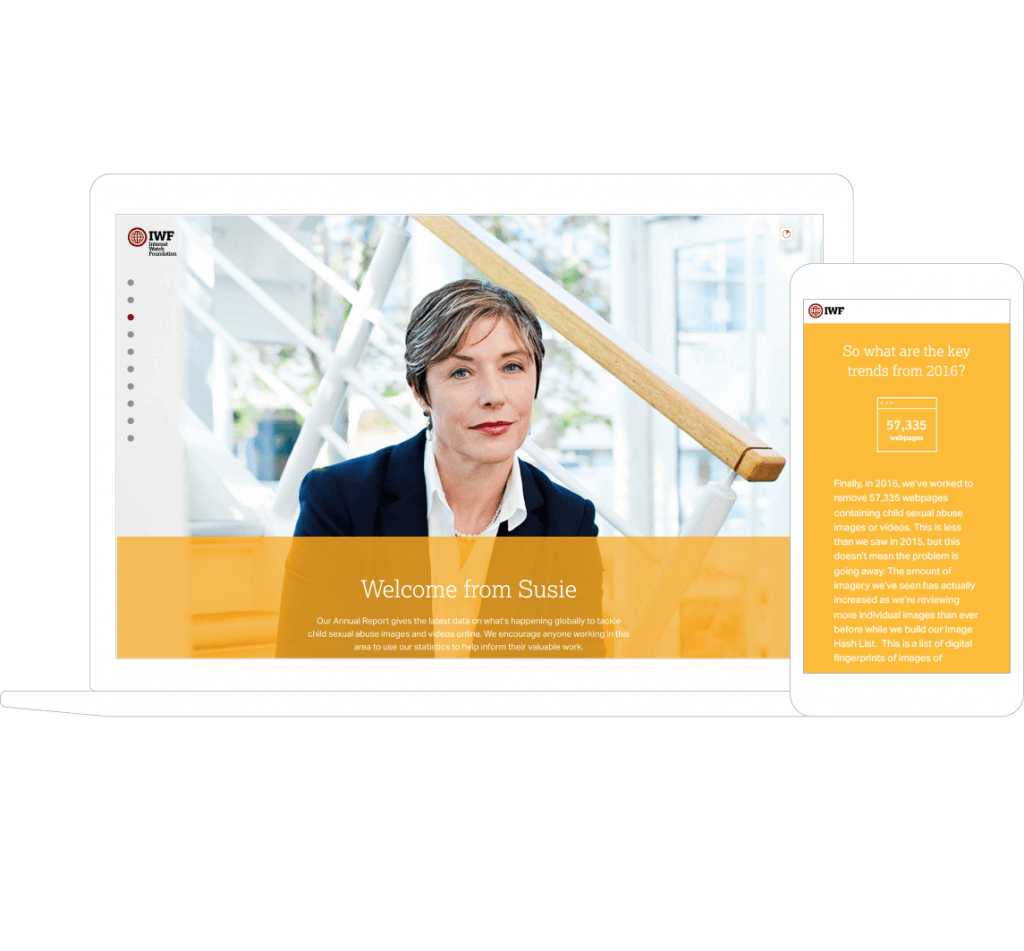 Results
The annual report launch event was held at the House of Commons with key funding members in attendance. This included several members travelling from the US, Antigone Davis, the Head of Global Safety at Facebook; Jacqueline Beauchere, Chief Online Safety Officer at Microsoft and Uma Subramanian, Director at Aarambh travelling in from India. iPads were on hand for guests to interact with the report, see the latest findings as well as new initiatives being implemented.
The report was featured on the BBC.
IWF have been delighted with recent analytics, the platform is proving to be sticky with the average session clocking in at 4 mins 15 seconds.